Fab Friday & Super Saturday – November Deals!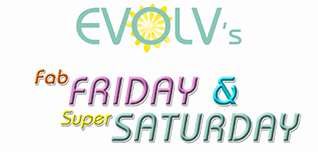 Friday November 8th and Saturday November 9th are the dates of our next special weekend. We'll have our usual great range of special offers on products, treatments, and therapies. There'll also be free consultations and expert advice on some of our newer products.
It's the best time of the month to call in store. We hope to see you then!
---
Fab Friday – November 8th
Offers for Fab Friday November 8th only are:
Super Saturday – November 9th
Offers for Super Saturday November 9th only are:
Offers on both days
Offers available on both Fab Friday November 8th & Super Saturday November 9th are:
€5 Off Wild Alskan Fish Oil
Buy 2 for €10! Apple Cider Vinegar & Psyllium Husks – Free Recipe Available
20% Off Beta Glucans
20% Off Dida
20% Off Salt Lamps
20% Off Source of Life Gold
20% Off Mag365
20% Off Amber SOS Teething Beads
Come See Our Range of New Products & Christmas Gifts
Benecos Natural Beauty
Shakaloha
Vita Plantae – Come & visit this amazing new product only in evolv & start your day the natural way!
Mandir Recycled Hairloom Footstools
---
You can see we've lots on offer on  Fab Friday November 8th & Super Saturday November 9th – so don't miss out. We look forward to seeing you!
Booking is essential for all treatments as appointments fill up fast! Call us on (053) 923 6009 or email: hello@evolv.ie or drop in store to book an appointment!