Food and drink is the cornerstone of all healthy nutrition and at Evolv Health & Wellbeing Store, we have an extensive food and drink department to suit all tastes, ethical preferences, and dietary requirements.
Whether you need staples such as ingredients for everyday cooking for a gluten-free diet, or are just looking for a special treat like a dairy-free chocolate bar, you'll find what you're looking for when you shop at Evolv.
---
Our vast range of Food and Drinks includes:
Teas, Coffees and Infusions
Herbal teas and other infusions can bring many benefits to the body, thanks to the natural nutrients and anti-oxidants in the leaves, bark, roots, berries and/or flowers of the plants that give us those teas.
At Evolv Health & Wellbeing Store, we offer a huge selection of herbal teas and infusions, in both loose leaf form from carefully-chosen suppliers, and pre-packaged form from the world's top manufacturers.
If interested in loose leaf tea, our staff can advise on the best choices for you, and can even provide you with a tailor-made blend of two or more teas. Meanwhile, our pre-packed selection includes a range from:
Yogi Tea
Qi Tea
Pukka Infusions
Heath & Heather Teas
Clipper Teas
And more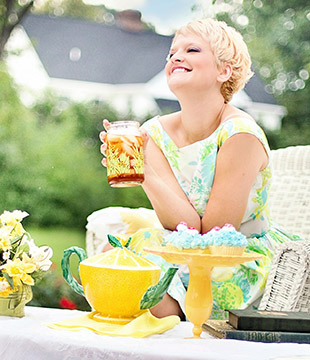 We also stock Organic Hot Chocolate powers, and a range of organic and/or Fair Trade coffees (both caffeinated and decaffeinated).
---
Alternative Milks
With lactose intolerance issues now affecting an estimated one in twenty people in Ireland, the importance of sourcing high-quality alternative milks is more important than ever. Doing so is one of many things we take very seriously at Evolv Health & Wellbeing Store, and among the milks we supply are:
Soy milk – Probably the most common alternative to dairy milk. Like cow's milk, soy milk is often fortified with calcium, vitamins A and D and riboflavin, and has 8 to 10 grammes of protein per serving. This makes it the most similar milk alternative to cow's milk in terms of nutrition profile.
Rice milk – The most hypoallergenic of any of the milk alternatives, and often free of soy, gluten and nuts. However, it is quite watery in texture and is not suitable for cooking and baking. Another point to note is its relatively low calcium content, though versions fortified with calcium are also available.
Coconut milk – Probably the milk alternative with a texture closest to that of whole milk. As it is naturally soy- and gluten-free, coconut milk is often a good choice for those with multiple food allergies. It is also a rich source of potassium.
Oat milk – Contains more calcium per serving than cow's milk and is therefore a great choice for anybody seeking an alternative source of calcium. It is low in fat, lactose free, and contains 10 minerals and 15 vitamins.
We also stock other milks – just call in store to see our full range.
---
Organic Juices
Fruit, berry and vegetable juices we stock are 100% natural, unprocessed, and organic, meaning you can enjoy their benefits just as nature intended.
Our 100% natural cranberry juice, for example, is much more powerful than the watered-down cranberry juice drink that can be bought in a carton at a supermarket. Similar benefits apply to all other juices at Evolv.
---
Dried Goods/Ingredients
We offer an array of dried goods and cooking ingredients, packaged and branded specially for Evolv to ensure freshness and value. Our range includes:
Beans of all most common and popular varieties
Lentils
Dhals
Organic rice
Buckwheat
Dried fruits and berries
Wheatgrass grain
And much more
We also carry a range of cooking sauces and tinned goods to suit all tastes.
---
Confectionery
We all know that everybody sometimes just wants a treat. At Evolv Health & Wellbeing Store, you needn't feel guilty about that, as we have a selection to allow a little indulgence no matter what your tastes, preferences, or dietary needs.
Chocolate lovers can choose from organic chocolate, dairy-free chocolate, and sugar-free chocolate. We also have lots of other sugar-free treats and healthy snacks, and a variety of soft drinks to enjoy too. Having a food intolerance or allergy is not a problem, as we have something to suit everybody – just ask staff for advice if you need any extra help in choosing.
---
Other foodstuffs
A selection of other items from our Food & Drinks Department includes:
Cooking oils – coconut oil, olive oil, sunflower oil, rapeseed oil, etc.
Nut butters – peanut butter, almond butter, etc.
Honey – including Manuka Honey from New Zealand, and locally-produced organic honey
Jams/preserves – including sugar free and other healthy options
Wheat-free products – both ingredients and pre-made
Gluten-free products – both ingredients and pre-made
Apple cider vinegar – helps to alkalise the body and aids digestion
And that's all without even mentioning our range of 'Superfoods'!
So for the widest range around of natural and healthy food options, call to Evolv Health & Wellbeing Store at 2 Castle Hill, Enniscorthy, Co. Wexford. We're open 9.30 a.m. to 6 p.m., Monday to Saturday.