Viridian Vitamin D3 2000iu 60's
Viridian Vitamin D3 2000iu 60's
€19.95
In stock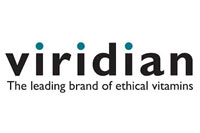 Description
Description
Viridian Vitamin D3 2000IU contributes to the maintenance of normal bones, teeth, muscle function and immune function as well as normal absorption of calcium and phosphorus. Adults, the elderly and pregnant women should take 1,500-2,000IU daily.
Vitamin D is an essential nutrient that contributes to the normal function of the immune system and blood calcium levels which in turn supports the maintenance of normal bones and teeth. As fear of sun-exposure has grown and lifestyles have become more sedentary, exposure to the sun has dropped dramatically and vitamin D deficiency and the incidence of rickets has surged. The skin cannot create vitamin D if covered in sunscreen or clothing, it's thought that a sun cream with SPF15 will reduce the skin's ability to synthesize vitamin D by more than 95%.
So, who should be taking a supplement? Public Health England recently reissued advice on the importance of vitiman D. The Department of Health and Social Care recommends that all adults and children over 5 years old should consider taking a daily supplement containing 10micrograms of Vitamin D during Autumn and Winter (there's other advice for younger children and babies – see NHS website).